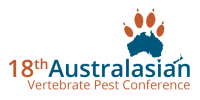 In 2021, we want the conference to be bigger and better than ever before and we have chosen "Feral Futures 2051" as the theme for the 18th AVPC. 2051 will mark the second half of the 21st century and research, innovation and new ideas will be imperative to ensure our future is as feral-free as we can make it.
In 30 years' time, we will no doubt have new technologies and products which haven't even been thought up. If we think about 30 years ago, we didn't have apps or mobile devices available at our finger tips for information and monitoring and these are now a part of our everyday lives.
It is exciting to think what 2051 holds and we want this conference to promote the knowledge, technologies and strategies that are propelling us towards 2051, but also the over the horizon thinking, strategies and developments that may shape vertebrate pest management in 2051 and beyond.