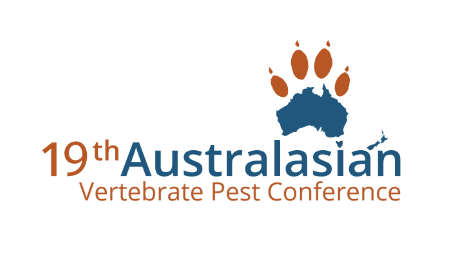 The theme for the conference is "Translating Science into Effective Management". The conference will promote not only outstanding research and on-ground management successes, but also demonstrate the techniques and strategies that are employed to translate research outputs into effective and long-lasting impacts.
The suggestions shown below for each symposia are not restrictive and are only to give an example of potential sessions rather than being prescriptive:- 
Putting research into effective practice, including community engagement and action

Predator Free New Zealand 2050

Managing feral cats

Managing wild canids

Managing rabbits

Managing feral pigs

Managing deer

Collaboration and community coordination including:
– What made your community IPM program successful?
– Understanding the pest, or the people
– Maintaining social licences and community support
Managing urban and peri-urban pests
Biotechnology and Genetic biocontrol
Biocontrol
Surveillance and incursions
Eradication; when can we do it?
Managing off target impacts
Zoonoses and exotic animal diseases preparedness
Technology and innovations including:
– Automated systems for managing pests
– Role of Artificial Intelligence in pest management
Open session
Abstracts will be reviewed prior to acceptance and may be edited. Potential speakers and presenters of posters/ speed talks will be notified of acceptance by the 25 March 2024. Please note that final acceptance is conditional upon registration of presenters. The Conference committee regrets that it is unable to meet any travel or subsistence expenses  
Abstract submissions close: 28 February 2024
Abstracts under review: 29 February 2024 – 20 March 2024
Authors notified of acceptance: From 25 March 2024
All abstract are to be submitted in the following format:  
Style: Abstracts to be written in English and submitted in MS Word format, with text Arial or Calibri font of 12-point.
Title: Maximum of 20 words, uppercase, bold, centred.
Authors: Lower case, centred with speaker highlighted in bold.
Addresses: Single spaced, centred, multiple authors identified by superscript number, also matched to speakers' names, keep addresses shortened where possible. Speaker or senior author email address to be included.
Abstract: Maximum 300 words, no exceptions. Lower case, single spacing. Use double spacing between paragraphs if required. Sub-headings, tables, figures and references to be included within the 300-word limit.
We specifically encourage indigenous Australian, Maori and Pacific Island rangers and land managers to submit abstracts outlining their perspectives and activities related to these symposia sessions 
You are invited to present a spoken paper or poster with a speed talk. Spoken papers are offered for a 10 – 15 minute presentation and poster presentations will have a two minute speed talk to promote their poster embedded within the corresponding symposia.  
A prize will be offered for the best student presentation. Only full time students are eligible. Proof of student status may be required.