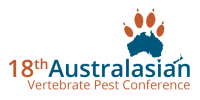 The theme for the conference is "Feral Futures 2051". We want the conference to not only promote the research, on ground management techniques and strategies that are being employed today to propel us towards 2051 but also the over the horizon thinking, strategies and developments that will shape vertebrate pest management in 2051 and beyond. The suggestions shown below for each symposia are not restrictive and are only to give an example of potential sessions rather than being prescriptive:- 
Future challenges and impacts: What challenges will we be facing in pest management in 20

51

?

 

Predator Free New Zealand 2050 (Sponsored by 

the 

Department of Conservation, New Zealand)

 

Biotechnology and biocontrol

 

Conservation within fenced areas 

(Sponsored by the 

ACT Government)

 

Island conservation

 

Surveillance and incursions

 

Automated systems for managing pests

 

Integrated pest management

 

Cultural icon exploded: how 

can

 we 

effectively 

manage iconic species such as wild horses and 

kangaroos?

 

Managing carp (Sponsored by the 

FRDC

)

 

Putting research into practice, including community engagement and action

Managing feral cats

 

Managing rabbits

 

Managing wild canids

 

Managing feral pigs

 

Managing deer

 

Open session

 

 

 
Abstracts will be reviewed prior to acceptance and may be edited. Potential speakers and presenters of posters/ speed talks will be notified of acceptance by the 19 December 2019. Please note that final acceptance is conditional upon registration of presenters. The Conference committee regrets that it is unable to meet any travel or subsistence expenses  
Abstract submissions close: 17 November 2019 
Abstracts under review: 17 November 2019 – 13 December 2019 
Authors notified of acceptance: 16-19 December 2020 
All abstracts to be written in English and submitted in MS Word format with text in Arial or Calibri, 12 point font. 
Abstract to be a maximum 300 words, no exceptions. 
Page to appear as follows: 
Title: Maximum of 20 words, uppercase, bold, centred.  
Authors: Lower case, centred with speaker highlighted in bold. 
Addresses: Single spaced, centred, multiple authors identified by superscript number, also matched to speakers' names, keep addresses shortened where possible. Speaker or senior author email address to be included. 
Abstract: Lower case, single spacing. Use double spacing between paragraphs. Sub headings, tables, figures and references to be included within the 300 word limit. Text for these remains in 12 point.
We specifically encourage indigenous Australian, Maori and Pacific Island rangers and land managers to submit abstracts outlining their perspectives and activities related to these symposia sessions 
You are invited to present a spoken paper or poster with a speed talk. Spoken papers are offered for a 10 – 15 minute presentation and poster presentations will have a two minute speed talk to promote their poster embedded within the corresponding symposia.  
A prize will be offered for the best student presentation. Only full time students are eligible. Proof of student status may be required.